Setting up your blog – let's get started!
Now you have decided on a hosting company as described in my last blog post, it's time to start setting up that blog!
Whichever hosting company you have chosen, they will make it easy for you to get WordPress.org installed. You can easily do it yourself, but if you're not sure or don't feel confident right now, ask your host for help and they will gladly assist.
Once you have everything ready, you're now the proud owner of a blog and now comes the fun part! Setting up your site and choosing a theme! Your blog looks nothing like a finished product at the moment because you haven't written anything yet to fill it with content. You need to write an 'about me' page and a privacy policy, and you need to set up a menu. That's apart from giving your site a look that makes it unique to you by adding a theme. And you probably need a few plug-ins to add functionality.
Don't panic! If this all sounds too much, don't worry, we'll go one step at a time and it really will seem quite easy.
After a while you will be really familiar with all of this and you will easily change the look of your blog, add pages, and be really confident with the WordPress platform. I remember feeling quite overwhelmed at times at the beginning but it does become second nature after a while, trust me.
Logging into our WordPress site
The first time you log into your wordpress site, it will look a bit like this::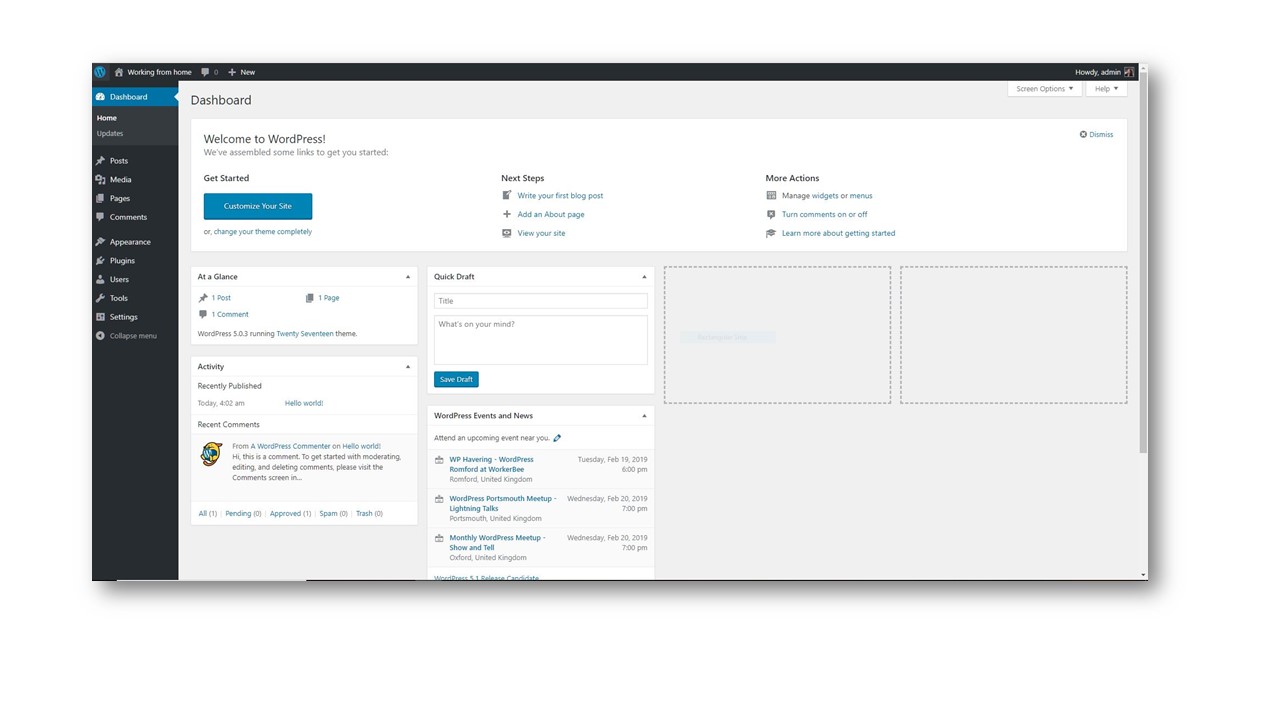 This is what we call the back-end of your site. Everything you do with your site happens here. Right at the top you have the word Dashboard and on the left hand side you have a menu bar.
If you click on home, it will take you to the dashboard. You can either click on home or dashboard, both lead to the same thing. Underneath you will find Posts. This is where you write your content. All posts will take you to a page with a list of all your written posts. Which should be empty right now as you haven't written anything yet. However, sometimes WordPress adds filler content, so you can see what a post would look like. If you have any posts like that, you can just delete them. We don't need them.
If you click on Add New, that will bring you to your editor, which is where you can write your posts. Then there is a Categories and Tags button. We will look at these later.
What we want to do for now is to choose a theme for your blog. A theme is the 'look' of your blog. If your blog was a house, the theme would be the decor. If it was a person, it would be their clothes. It's what gives your blog your look and identity. A theme lets you change the colours of your blog, it lets you add a logo, or you can customise the fonts and size of your font.
Choosing a theme for your blog
To choose or change the theme for your blog you have to head over to Appearance on the left hand side. If you hover over the Appearance tag you will see a drop down list with Themes, Customise, Widgets, Menus and Editor.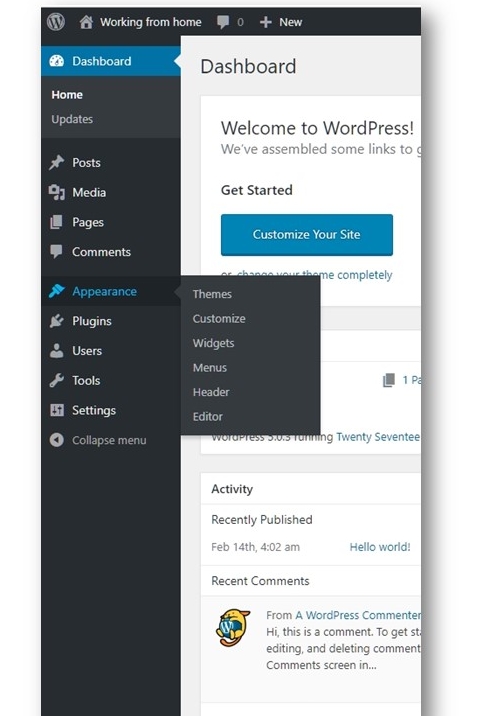 Click on Themes and this will take you to the themes page. Depending on what hosting company you have chosen, this page may look a little different, but all of them should show you a selection of Themes you can use for your blog.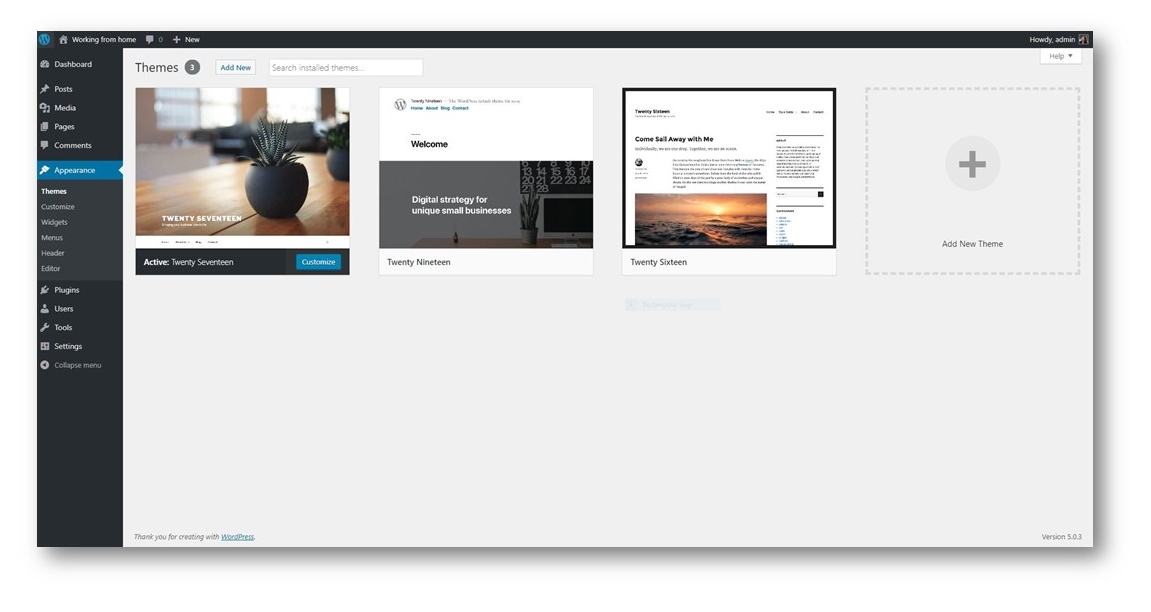 It's quite likely that your blog already comes with a theme, usually it's the Twenty Seventeen theme. But this is where the fun starts, you can click on Add New at the top of the page and this will open another page with lots of themes to choose from.
For now this can be a little overwhelming because you haven't written any blog posts yet. So whichever theme you choose will not look like the example that you picked. Don't worry about this for now, once you have written a few posts, it will all come together. You can start by picking a fairly easy theme and change to another later on once you have your blog filled out a bit.
Free themes vs paid for themes?
There are many free themes to choose from and there are others you have to pay for. The advantage with paid themes is that they are usually updated fairly regularly. They tend to have better functionality, less problems and many more options to customise your blog.
However, to start your blog, a free theme will be absolutely fine. In fact a lot of succesful blogs are run on free themes without problems. When you are starting your blog, you also don't know what you need from your theme at that point. Once your blog is more established, you will know what functionality you want from a theme and can choose one accordingly.
Here is a good article with a list of great free themes that might be helpful.
A free theme that I'm using with one of my blogs is the Savona theme from Optima Themes. It's very easy to customise and looks great. Once my blog is more established, I prefer to use a paid theme and The Home Boss, for example, is run on the Viva Viva theme from Pipdig. My gardening blog also runs on the Crystal Theme from Pipdig. I can thoroughly recommend them for their excellent customer service. And because I really like the clean look of their themes.
There are many other themes of course and you can start with a free theme.
Can I change my theme?
The fun thing about themes is that you can change them when you don't feel happy about the look of your blog. And you can change as often as you like. Changing your theme does not affect your posts. Your posts are always on wordpress and you won't lose them. However, once you are happy with the look of your blog, I would stick to it and not change.
The reason is that your readers will get used to the layout of your blog, and might not like the changes. A bit like when you go to your supermarket and everything has been moved about. So annoying! Your blog is no different: people will get used to it and know where to find things, so don't change your theme too often.
So now you're all set! How exciting! This is the start of a very rewarding journey for you and I'm so glad you have made it so far. Don't forget to read my next post on how to write your About Me page to continue working on your blog.
I hope this post has helped and you are inspired to make a start. Let me know what you think in the comments. If you have any questions, I will try my best to help out.
PS. One small request: if you enjoyed reading this, please share it ? A share would really help a lot with the success of this blog. It won't take long and I would be so grateful. Please pin, tweet or share on Facebook. Thank you so much!
*This post may contain affiliate links.